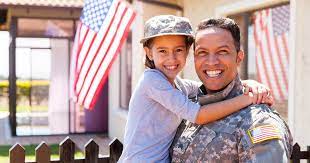 Military Service Members, We Can Help You Move!
As a Certified Military Relocation Professional, I know that planning a move to a new base in a unfamiliar town can be a difficult time without the right help. Let me assist you and your family make a move that is quick, easy and as stress-free as possible! I will put my 22 years of experience and knowledge to work for you.


I can assist you with your PCS move if you are coming to APG (Aberdeen Proving Ground). I am very familiar with the area and different communites. I will get the process started by setting up a Zoom meeting with you or a phone call prior to your move, to determine what you are looking for and your families requirements for a new home. I can connect you with a lender for a free mortgage pre-approval and I will answer all of your questions along the way.


I am able to meet and move quickly to help show you any property you choose and can also do virtual showings. I can help to coordinate moving times, give you the ability to sign documents electronically and do remote closings. Plus, I can help line you up with any contractors, house cleaners or landscaping companies so everything is set up before you move in.


With several family members who have served in the military, I understand your time is valuable and I thank you for your service to our country!